Brooklands Road Test Portfolios
VelocePress publishes a wide selection of books about classic automobiles including formerly out-of-print titles and original works written specifically for VelocePress.
_____________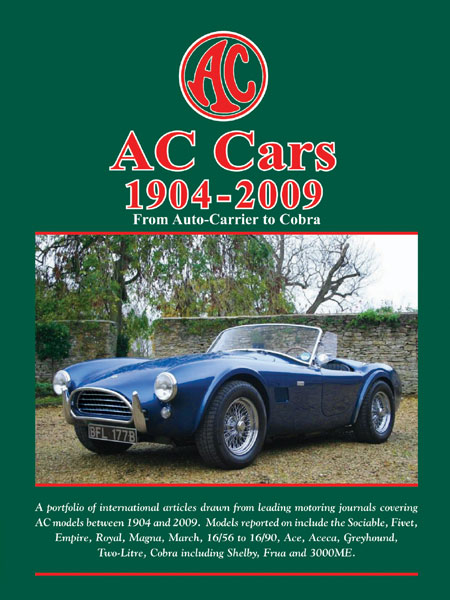 AC CARS 1904-2009 - ROAD TEST PORTFOLIO

Author: R.M. Clarke
ISBN: 9781588501554
VP Book ID: 19703
Pages: 428
Dimensions: 8 1/4" x 11"

Description: 428 pages, 950 illustrations, size 8.25 x 11 inches, published in 2010. Weighing more than two pounds, this one-inch thick oversized book contains 173 articles on AC models from 1904 trough 2009 conveniently assembled into a single volume. An in-depth reference book compiled from multiple sources, these incredibly focused portfolios contain a wealth of information for the collector, restorer or enthusiast and they are certainly required reading for anyone contemplating a purchase. This portfolio traces the AC story from the early Tricars through the introduction of the Mk IV Cobra powered by a Corvette engine and constructed under license by Gullwing GmbH in Heyda, Germany. An intriguing insight into this truly unique British automobile manufacturer, it includes data on the Sociable, Fivet, Empire, Royal, Magna, March, 16/56 to 16/90, Ace, Aceca, Greyhound, Two-Litre, Cobra – including Shelby, Frua and 3000ME. Brooklands Books Ltd. has been publishing road test portfolios on a wide range of automobiles and motorcycles since the early 1950's and the series now runs in excess of 500 titles. This book is part of the digitally produced series of portfolios and VelocePress is proud to be part of the publication effort in conjunction with Brooklands Books. Typically the contents include road tests, new model reviews, owner commentary, driving impressions, specifications, performance data, design and styling articles...$49.95 USD

NOTE: International buyers please see 'Shipping Costs' as overweight shipping charges apply to this book.

_____________