VelocePress Books
Automobile Floyd Clymer™
Clymer manuals, technical books, service, repair, workshop manuals, and owner's handbooks.


Motorcycle Floyd Clymer™
Clymer manuals, technical books, service, repair, workshop manuals, and owner's handbooks.


Autobooks Manuals
Republished by VelocePress, this series of Owner's Workshop Manuals is a great resource.


Brooklands Road Test Portfolios
Brooklands Road Test Portfolios which are compiled from multiple sources and contain a wealth of information.


Ferrari and Etceterini
VelocePress' specialty is Italian Automobile titles for the historian and enthusiast.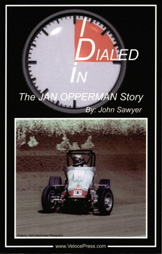 Auto & Motorcycle Racing Titles
Auto & motorcycle racing history and fiction titles for the racing enthusiast.


Arts & Entertainment Titles
VelocePress is pleased to add titles covering the entertainment and music industry.

Auto & Motorcycle Racing Books


Clymer Auto | Clymer Cycle | Autobooks | Road Tests | Italian | Racing | Arts

Auto & Motorcycle Racing Books
VelocePress publishes auto and motorcycle racing history and fiction including formerly out-of-print titles and original works written specifically for VelocePress.
_____________

TUNING FOR SPEED

Author: Floyd Clymer & P.E. Irving
ISBN: 9781588501318
VP Book ID: 20068
Pages: 294
Dimensions: 5 1/2" x 8 1/2"

Description: In 1963, Temple Press UK published a revised and expanded 4th UK edition of 'Tuning for Speed' and, in 1965, they published a reprint of that 1963 edition. Both the 1963 and the 1965 publications are identical in content and contain 294 pages, a significant increase from the previous 208 page 1960 printing.

With a total of 294 pages, the revised and expanded 4th UK edition is the most comprehensive of all of the 'Tuning for Speed' editions ever published. Earlier editions only stretched to 208 pages and later editions shrunk to 260 pages (or less) as what was thought to be 'dated information' was deleted from the contents. This 'dated information' is considered valuable today by those enthusiasts interested in vintage motorcycle tuning and modification. Consequently, this makes the revised 4th UK publication the most complete and desirable edition. Therefore, it is our pleasure to offer this reprint of the Floyd Clymer 'Revised 4th UK Edition or Second American Edition of 'Tuning for Speed' to motorcycle enthusiasts worldwide.

'Tuning for Speed' was originally published in 1948 and continuously reprinted and updated in order to keep pace with the constantly evolving range of British motorcycles and engines. While the primary focus of this publication is on 1965 and prior British motorcycles, the theory and engineering it contains is still applicable to the current crop of high revving imports. 'Tuning for Speed' is considered by many knowledgeable motorcycle enthusiasts to be one of the best books ever written on how to improve, modify and fine tune a motorcycle engine and it is often referred to as one of the 'top 10' classic motorcycle books.

The Floyd Clymer association with this publication dates back to the early 1960's when he purchased the United States Publishing rights for 'Tuning for Speed' from Temple Press in the UK and, in 1967, Clymer published the 1st American edition of that title. However, by 1967, the Clymer publication had been preceded by 8 printings of the UK edition and was incorrectly identified by Clymer as a 9th edition. In fact, the 1967 Clymer publication is actually a reprint of the less desirable 208 page 1960 UK edition.

However, in 1963, the 4th UK edition was revised and expanded to 294 pages (with a second identical re-print in 1965). Therefore, this 2nd American edition of the Floyd Clymer publication of 'Tuning for Speed' includes all of that valuable 'dated information' that was deleted from the later editions and is identical in all respects to the 294 page1963/1965 revised and expanded 4th UK edition - with the exception that 7 pages of UK-based advertising to the rear of the book are not included in the Clymer publication. ...$29.95 USD




_____________




VelocePress - 8535 Wurzbach Road, Suite 101 - San Antonio, TX 78240 USA
Contact Us

Copyright 2003 - 2017 Veloce Enterprises, Inc.