Floyd Clymer™ Motorcycle Books
VelocePress publishes a wide selection of Clymer manuals and out-of-print technical books, workshop manuals, service, repair and owner's handbooks.
_____________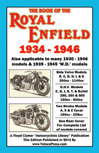 BOOK OF THE ROYAL ENFIELD 1934-1946

Author: R.E. Ryder
ISBN: 9781588501455
VP Book ID: 20082
Pages: 132
Dimensions: 5 1/2" x 8 1/2"

Description: 132 pages, 70 black & white illustrations, size 5.5 x 8.5 inches. Originally published under the title The Book of the Royal Enfield From 1934 Onwards, by R.E. Ryder this book is one of The Motorcyclist's Library series published in the USA by Floyd Clymer by arrangement with the original publishers, Pitman Ltd. of London, England.

This fourth edition was first published in 1938 and reprinted in 1940, 1941, 1943 and 1946 and the only change made to the contents was to update the 'years covered' as the motorcycles themselves remained unchanged. For example, the Royal Enfield Model CO 350cc O.H.V. Single, introduced in 1930, remained in production and unchanged through 1947. Consequently, the data contained in this publication is, in most cases, applicable to any of the models listed below, originally introduced in 1930, that remained in production through 1946 or later. Owners of those same later models are encouraged to read the appendix to the rear of the book:


2-Stroke Models - X, Z Cycar & A.

S.V. Models - B, BM, D, C De Luxe, H, HM,
L De Luxe, K & KX De Luxe.

O.H.V. Models - T, TM, S, SM, S2, 250 Bullet,
CO, CM, G, 350 Bullet, 500 Bullet J2, J & JM.


This publication includes complete technical data, service and maintenance information and detailed instructions for the repair and overhaul of the major mechanical and electrical components. There is adequate detailed text and diagrams to assist in major refurbishing such as an engine rebuild or even a complete renovation. Out-of-print and unavailable for many years it is becoming increasingly more difficult to find on the secondary market and we are pleased to be able to offer this reproduction as a service to all Royal Enfield motorcycle owners and enthusiasts worldwide...$24.95 USD

_____________